The Power of Video at the Superbowl
 What can you learn from the real winners of the Superbowl?
The Superbowl is not just a football game. Now, it is a cultural phenomenon that incorporates top class music acts and million dollar advertising campaigns. In football terms, the Super Bowl certainly did not live up to the expectations of Pigskin prognosticators. Instead, it was a victory decided early on in the match, which resulted in Seattle trouncing Denver with 48 – 8 left on the scoreboard.
What was exciting however was the various competitive advertisements throughout the match. There were great adverts from Doritos, Radio Shack and Beats, but the advert to win the hearts of millions came from Budweiser. It deservedly won this years prestigious Ad Meter Award, winning the Consumer's Choice category.  With two minutes left in the game it was Budweiser's cute puppy that onlookers were engrossed with.
 What was it about and how did they do it?
The advert featured a puppy who is in a Puppy Adoption Farm. He overcomes all obstacles in his way and returns to his best mate, the Clydesdale horse at a neighbouring farm. When the puppy is adopted there is a beautiful scene of the horses running and barricading the car, bringing the puppy to its friend.
In an article from MTV, Budweiser revealed some interesting facts behind the video. There were 8 puppies and 17 Clydesdales featured in this promo. Each animal was given a particular scene to train for, taking them 3 months to master their skills. One puppy spent his time training to dig under a fence, another puppy spent his time training running with the horses and a third puppy dedicated himself to dancing happily with a horse in the stable.
 Results of the video campaign – is it worth it?
What were the results for these adverts that cost $4 million per 30-second slot? According to the Super Bowl Digital Index, Budweiser had an index score of 99.7 in comparison to second-place winners Coca-Cola who had a score of 78.4. This gives Budweiser a clear advantage over any competitor based on an analysis of activity on Facebook, Twitter, Instagram and YouTube.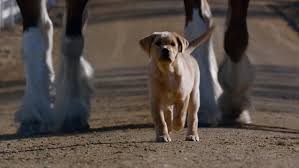 This advert took a lot of effort, it cost a lot of money but it also reaped the rewards. What does this mean for your business? It emphasises the value of the visual message. The team behind this advert planned a great concept and put the hard work into making it happen. You don't have to spend millions on your video, but a great concept can go a long way to reaching your audience and getting them to pay attention.
Is a video advertisement worth it? Ask any of your top competitors, they most likely have their video already made.