What Are Long-Form Videos?
Long-form video content refers to videos that have a longer duration than is typical for their distribution channel. They may last anywhere from a few minutes to over an hour. In recent years, they have become more popular among marketers as brands seek to create a wider mix of content.
 Maximum Video Lengths
| | |
| --- | --- |
| YouTube | 12 hours |
| Facebook | 4 hours |
| Instagram | 1 minute |
| Instagram Stories | 15 seconds |
| IGTV | 10 – 60 minutes depending on your account type |
| Twitter | 2 minutes 20 seconds |
| LinkedIn | 10 minutes |
 Long-Form Video Marketing Statistics
54% of smartphone viewers'video-viewing time is spent on videos that are over 20 minutes long – an increase from just 29% in 2016. (Source: Statista)
A 2017 study of 1.5 million videos revealed that the 8% of videos that lasted 15 minutes or longer drove 50% of audience engagement. (Source: Twenty Three)
In 2017, longer videos on Facebook received 79% more shares and 74% more views than short videos. (Source: Wochit)
You may be using video marketing for your #smallbusiness, but are you aware of the benefits of long-form video #marketing?

Check out these stats! https://t.co/0g8z0p1rJt #infographic pic.twitter.com/H9BnCI4vwd

— Small Business Trends (@smallbiztrends) August 20, 2019
Why Is Long-Form Video Becoming More Popular?
The availability of better internet data plans means that consumers can consume longer videos. Previously, this would have been prohibitively expensive as watching long, high-quality videos would have eaten up their data. Now, cheap access to 4G and even 5G networking allows consumers to watch videos on the go.
In recent years, video streaming apps (such as YouTube, IGTV, Netflix etc) have seen a huge increase in popularity. As such, consumers have developed a greater appetite for longer and more meaningful video content.
Another factor that has contributed to the growth of long-form video is the fact that today's consumers are increasingly device-agnostic. In other words, they don't mind watching long videos on smaller screens (e.g. smartphones, tablets).
Technological advancements also have a part to play. Improvements in video processing technology and video delivery methods, makes it easier and more enjoyable for users to watch long videos.
Business Applications of Long-Form Video
Long-form video content is great way to reach out to customers at the bottom of the purchasing funnel. Someone who is interested enough to watch a 10+ minute long video is more likely to be closer to converting. For more information on how to use video to convert leads, check out our infographic guide: "The Role of Video in the Sales & Marketing Funnel".
Long-form content offers an ideal medium through which you can share your industry-leading insights and expertise. By establishing yourself as a thought leader in your field, you can gain a leg up on the competition and also boost customer loyalty.
Long-form video provides an opportunity to tell engaging stories that emotionally connect with your audience. This will allow you build a strong relationship with your audience and create a sense of community around your brand.
 Business Benefits of Long-Form Video
CAPITALISE ON GROWING MOBILE VIDEO CONSUMPTION:
eMarketer estimates that 84% of Internet users will be frequent watchers of digital video content by 2021 and 83% will be using mobile devices to watch video content.
BOOST AVERAGE VISIT DURATION:
Publishing long-form videos on your website will keep visitors on a webpage for longer periods of time.
ENGAGEMENT:
While your long-form video may not get as many viewers as more "snackable" content, those who do watch until the end will be far more engaged than the average viewer.
THE SEO ADVANTAGE:
A well-made, substantive long-form video may generate more back-links to your site and this will help to boost your SEO standings.
GREATER VISIBILITY ON YOUTUBE
Research from the Pew Research Center reveals that YouTube recommendations are increasingly favouring longer videos.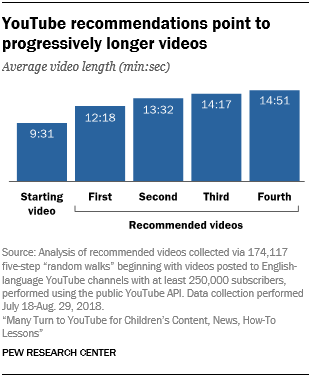 THE VR OPPORTUNITY: 
Make a splash by creating captivating long-form video stories that incorporate immersive virtual reality technology as well as subtle product placement.
Check out the infographic below to learn more about the long-form video marketing opportunity