So you have an event and you've invited everyone on your email list, your twitter account and your facebook page. So far you've received a good response. There is going to be a pretty decent number of people who are going to attend. You browse through your list of contacts again and are amazed at the amount of colleagues and peers you have that are spread out all over the globe. Its a shame that you cannot invite them to your event. Well, that does not have to be the case! Have you ever considered Live Streaming your event?
We have put together this little infographic to show just how far live streaming your event can actually reach!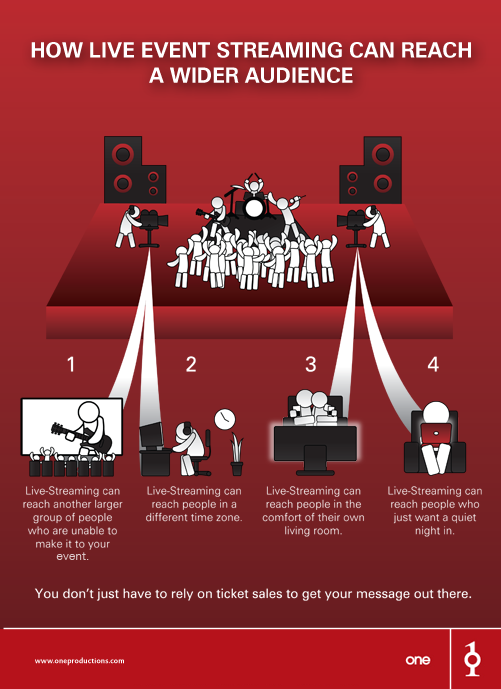 Live Streaming Your Event
As you can see, live streaming has the potential to reach a much larger audience. You no longer have to simply rely on ticket sales to get your message out there. Putting your event online can bring your experience and message to as many people around the globe as possible! Whether it be someone in a different city who just couldn't make it down for the event. Or maybe even someone in a different time zone who is taking a little break from work to stick on their headphones and check out what you have to offer. Live event streaming can help reach all those people that may be interested!
These days business is all about building your client base and audience. Whether its a company looking to intoduce their new product or service to new clients or a band looking for new listeners, live event streaming can really help bridge that divide between you and your potential audience abroad.
For more infomation on how we can help you get your message moving, simply drop us a line at info@oneproductions.com