"B2B does not mean boring marketing."
– Beth Comstock, Businesswoman & Author
B2B Video Marketing in Numbers
70% of B2B buyers watch videos along their path to purchase. (Source: Google)
75% of executives watch work-related videos on business-related websites weekly and 52% watch work-related videos on YouTube weekly. (Source: Forbes)
73% of B2B marketers say that video positively impacts marketing ROI. (Source: Tubular Insights)
62% of B2B marketers rate video as the most important content format. (Source: LinkedIn)
82% of B2B marketers report success with video marketing initiatives. (Source: Vidyard)
What Business Goals Does B2B Video Marketing Support
BRAND AWARENESS

62% of B2B marketers say that video content helps to build greater brand awareness.

LEAD GENERATION

 
78% of B2B marketers agree that video engagement helps them identify higher-quality leads and a further 57% say that it helps drive more leads overall.


EDUCATE CUSTOMERS


86% of B2B marketers say that video is valuable because it can explain a product or service in detail to potential customers.
What Are the Benefits of B2B Video Marketing?

People would rather watch the Internet than read it. In fact, 59% of B2B decision-makers say they prefer video over text content.
Video has also been shown to boost website engagement by increasing page visits and average website visit durations.
One study found that marketing emails with "video" in the subject line can experience improved click-through rates of up to 300%.
Including the word 'video' in a blog, the title can also boost click-through rates.
Adding video to a web page can significantly increase its search engine ranking and well-optimized YouTube videos can rank at the top of Google search results.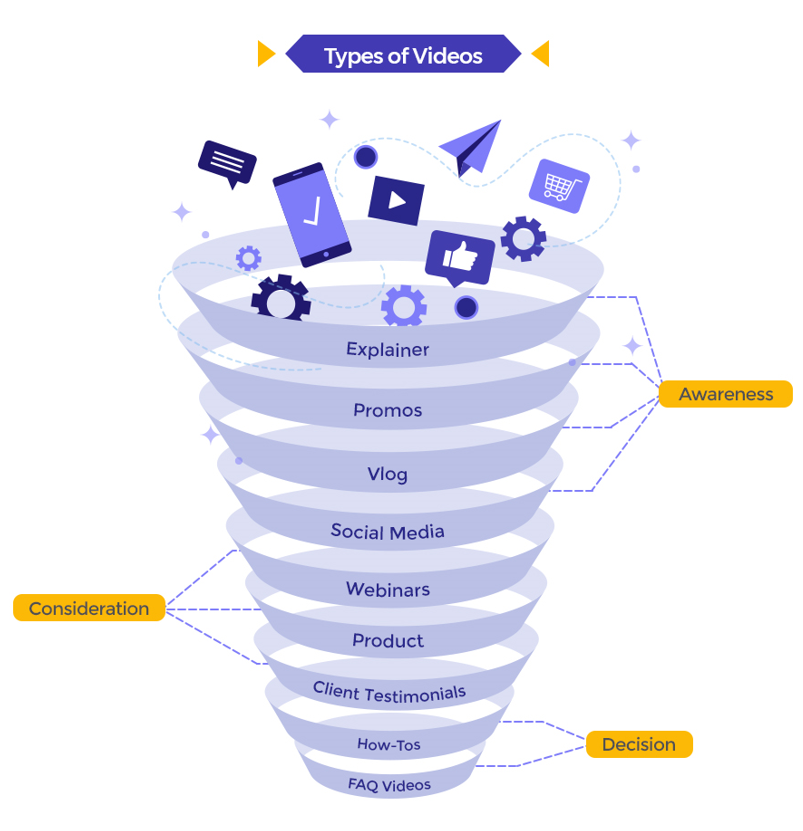 The 5 Stages of A B2B Video Marketing Campaign
1. Planning
During this stage, you will need to gather information and make decisions on a number of factors:
Goals
Budget
Timeframe
Target Audience
Resources
Constraints
  2. Content & Design
During this stage, you will have to write the script and decide on the CTA and design for the video.
If you are struggling to come up with an original idea, why not repurpose an older piece of content such as a blog post or podcast.
3. Production
In this stage, you will either create the video yourself or you can outsource production to professionals.
Once you have created the video, you will need to decide where you will host the content. Some popular video hosting platforms include YouTube and Vimeo.
If you intend to share the video on various channels, be sure you have several versions to suit each channel's unique specifications.
 4. Promotion 
Once the video is completed, you will need to promote it to your desired target audience through your assorted media channels.
5. Measurement & Analysis
The metrics you measure will depend on the goals that you set out at the start of the campaign:

| Goal | Metrics |
| --- | --- |
| Awareness | View count, watch time |
| Engagement | Likes, comments, shares |
| Lead generation | Subscribers, free trials, form fill-ups |
| Sales | Conversions |

Analyze the metrics and see if they indicate particular areas of improvement and apply these learnings to your next campaign.